THE BIG VOICE: God or Merman?
A brief, pictorial history.
In the Beginning: Laguna/Los Angeles
1
1 2 3 4 5 6 7 8 9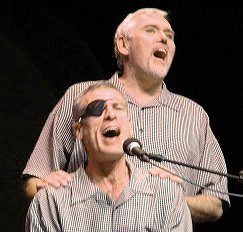 Steve & Jim. Laguna Playhouse. August 12, 2002.
It was only supposed to be a one-night affair.
Los Angeles Times (November 1, 2002):

Two indelible moments typify the considerable humor and impact of "The Big Voice: God or Merman?" Brochu's family friend Mr. Zimmerman takes him to see "Gypsy," starring daughter Ethel. The subsequent reverent epiphany -- "It was like Church, but with energy!" -- is priceless. The other signpost arrives early in Act 2. Having ended Act I waxing romantic in the lovely ballad "Near You," Schalchlin casually changes direction. His fathomless eyes belying his smiling voice, Schalchlin announces, "I had IT," conveying an entire universe in a single syllable.

Under Anthony Barnao's elegant direction, the attunement of these life partners is effortless, with Brochu an acerbic hambone and Schalchlin an affecting morph of Keith Carradine and Mr. Rogers.

The lingering afterglow suggests that the biggest voice in question belongs to neither God nor Merman, but to both performers and their witty, inspiring confessional.

Summer 2002. Rick Stein (Executive Director of the Laguna Playhouse) and Artistic Director Andy Barnacle called Jim Brochu and Steve Schalchlin asking them to participate in a summer solo concert series featuring such theatrical luminaries as Charles Nelson Reilly and Susan Egan; an informal night of story and song celebrating the Laguna Playhouse's own award-winning 1998-99 production of The Last Session, which Jim and Steve had written.

But to tell the whole story of how The Last Session came to be -- and what happened afterwards -- would require opening up and publicly discussing things they had never revealed before. The story behind the story was as intriguing and as dramatic as anything in The Last Session.

Jim, petrified at the thought of trying to capture all this in an impromptu night of story and song, sat down and in two weeks wrote a musical instead utilizing songs and stories that he and Steve had for three separate pieces they had been working on -- an autobiographical cabaret to be called "Plotpoints & Choruses," a musical revue called "The God Musical," and a book called "The Big Voice."

They decided to call it "The Big Voice: God or Merman?" Since it was just a one night event, they ran to a passport office and got pictures done, then designed a flyer on their ancient Mac.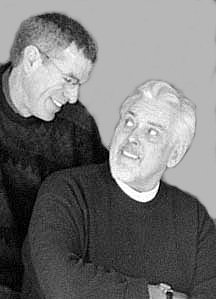 This passport publicity shot.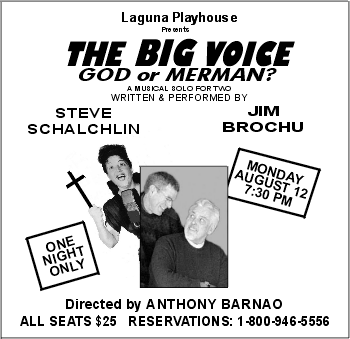 The first flyer design.
Not exactly art but it got the job done.
Veteran theatre director Anthony Barnao took the helm. They only had four weeks to stage, rehearse, rewrite and memorize. But on August 12, 2002, they debuted their fully staged musical "solo for two" featuring, in act two, four songs from The Last Session.

(The story is documented on Steve's personal online diary, "Living In The Bonus Round" beginning Volume 3 Book 1. Photos below by Bev Sykes, shot from the front row.)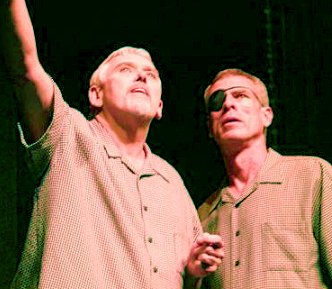 This picture became the first iconic image for the show.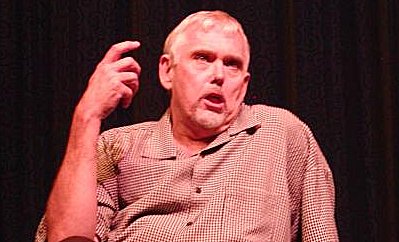 Jim Brochu having a few drinks in the Fantasy Lounge.
The audience response was phenomenal. At intermission Jim, Steve and Anthony noted that over 12 minutes in laughs and applause were added to the running time. But then it was time for act two, when things turn a bit darker and more dramatic.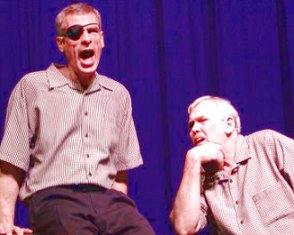 Steve was still wearing his eyepatch at the time due to Grave's Disease.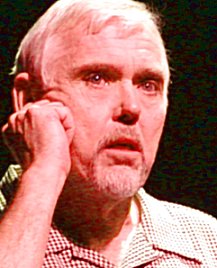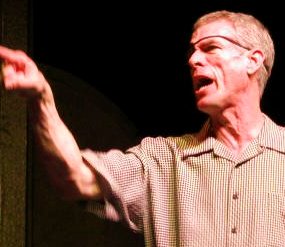 Jim calls with bad news. Steve angrily screams during a fight.
The audience was in tears, alternately laughing at Brochu's hysterical punchlines and then crying during the intense searing drama of real life being played out on the stage. At curtain, the audience rose to its feet in a wall shaking roar of approval. The buzz was on. Nobody wanted the night to end. In the lobby afterwards Jim and Steve were greeted by an enthusiastic crowd who expressed a deeply emotional connection to the show.

For them, The Big Voice was much more than just an entertainment. The most common question was, "What are you gonna do with it next?"

The three friends then began thinking that perhaps this unusual little project could be developed into a full-fledged stand-alone theatre piece. But there were problems to solve. The original piece was meant as a special night for the Laguna Playhouse. Could the piece have a life of its own? They would find out soon enough.

That night, The Big Voice was booked into the Lex Theatre by the Blue Sphere Alliance in Hollywood to start workshop performances on Sept. 12, 2002. Once again, four weeks to create a brand new piece.

They began rehearsals immediately to address the challenges. First, they jettisoned all the songs from The Last Session. If this piece was going to work on its own, then it needed its own original score. The other thing they had to decide was whether they needed a set, props or costumes. After all, it was a musical. You can't do a musical with just a keyboard, a table, two chairs and a mirror ball, can you?
NEXT >>>